Materials-Manufacturing 2020
About Conference

Materials-Manufacturing 2020 is one among the worlds largest Materials Science Conferences aims at sharing new advances and new concepts among the industrialists, experts, and graduate students from the scientific arena of Materials Science, Metals and Biomaterials, Nanomaterials, Materials Physics, Materials Chemistry, to share their current developments and applications in different fields and enjoy intuitive talks and specialized sessions at the occasion.
Materials Science Conferences in Europe:
Conference Name
Place & Date:
Barcelona,Spain | January 20-21, 2020
Euroscicon Ltd invites all the participants from all over the world to attend '3rd Edition of International conference on Materials Technology and Manufacturing Innovations' during January 20-21, 2020 in Barcelona, Spain, which includes prompt keynote presentations, Oral Talks, Poster Presentations and Exhibitions.
The theme of the conference "Fuelling the core of innovations in Material Sciences" is designed in such a way to explore the latest technologies and Innovations in the turf of Materials Science, Metallurgy and Manufacturing Engineering. The target of Materials-Manufacturing 2020 is to present the latest research and results of scientists related to Mechanical, Materials and Manufacturing efforts.
Materials and Manufacturing deals with the multidisciplinary turfs which begin with design, production, and development from raw materials into required specific applications. Materials technology is a constantly developing discipline, and the latest materials with interesting properties lead to new applications. The Materials-Manufacturing 2020 serves as an annual platform to exchange ideas around the impact of market dynamics and new technologies for current and future manufacturing, operations, and supply chain leaders. Whether it is automation, robotics, software, Product Design, 3D printing, wearable's, safety, lean, supply chain, and material handling or augmented/virtual reality the Materials-Manufacturing 2020 is a perfect platform to explore the latest ideas and technologies.
Materials Science Conferences Highlights:
Materials Science and Engineering
Biomaterials
Ceramics, Composite materials and Glass
Metallurgy and Mining
Manufacturing Innovations
Materials industries
Superconductors and Thermoelectric Materials
Energy Materials and Devices
Electronic, Optical and Photonic Materials
Nanotechnology in Materials Science
Corrosion and Corrosion protection
Polymer Technology and Surface Engineering
Fiber Materials and Textile fabrics
Materials Theory, Computation, and Design
Graphene and Semiconductors
Welding Engineering
Reuse and Recycling of materials
Emerging Trends in Materials Science
IMPORTANCE AND SCOPE
Materials Technology and Manufacturing Innovations play a vital role in our lives because of its uniqueness in properties and extended application in various industries. The development of Materials Technology will be the key policymakers and bring a new wave as the radical innovations in many application areas.
These are the origin of current technology. Materials research is the heart of many technological developments that touch our lives and find applications such as magnetic materials, electronic materials for communication and information technology, biomaterials for tissue engineering, sensors for the intelligent environment, energy materials for renewable energy and environment, light alloys for better transportation, materials for strategic applications and more.
The European countries form the largest market for the materials technology owing to large application use of materials in various industries. Electrical and electronics, metallurgical and chemical products are the major application segments in Europe, North America, and Asia Pacific markets. Europe has a significant market share in nanomaterial's market. Reduction in price of materials due to the increase in mass production has lead to robust growth of materials-technology in these regions. The Asia Pacific is also expected to witness remarkable growth in the expected period. Increasing government support and funds, rising environmental awareness, and rising demand for specialty materials is expected to boost up the growth of materials and manufacturing market in the foreseeable period.
Manufacturing Innovation is a modern trend in manufacturing engineering and deals with multiple manufacturing practices, research, design, development, processes, machines, tools, and equipment. Manufacturing is a process to turn raw materials into an updated or new product in the best economic, efficient effective productive way. It involves understanding how products and machinery work/ how to design/ make or usage of it. Applying the latest materials and manufacturing technologies, there is a robust change from basic steam engines to high-performance automobiles, air-conditioned environments, and jet aircraft in society for better use.
Sessions and Tracks
Materials Science and Engineering: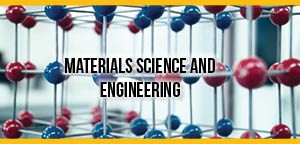 Materials Science and Engineering is an acclaimed scientific discipline, expanding in recent decades to surround polymers, ceramics, glass, composite materials and biomaterials. Materials science and engineering, involves the discovery and design of new materials. Many of the most pressing scientific problems humans currently face are due to the limitations of the materials that are available and, as a result, major breakthroughs in materials science are likely to affect the future of technology significantly. Materials scientists lay stress on understanding how the history of a material influences its structure, and thus its properties and performance. All engineered products from airplanes to musical instruments, alternative energy sources related to ecologically-friendly manufacturing processes, medical devices to artificial tissues, computer chips to data storage devices and many more are made from materials. In fact, all new and altered materials are often at the heart of product innovation in highly diverse applications.
Fundamentals and computational modeling
Processing and manufacturing
Coatings and surface engineering
Structural materials
Metrology and measurement
Functional and recycled materials
Materials theory and culture
Thermodynamics
Manufacturing Innovation is the current trend in production engineering and deals with various manufacturing practices, research, design, development, processes, machines, tools, and equipment. Manufacturing is a process to turn raw materials into an updated or new product in the best economic, efficient and effective way. It involves understanding how products and machinery work/ how to design/ make or use of it. From basic steam engines to high-performance automobiles, air-conditioned environments and jet aircraft, Manufacturing Innovations has changed society for the better.
Nanotechnology is the handling of matter on an atomic, molecular, and supramolecular scale. The interesting aspect about nanotechnology is that the properties of many materials alter when the size scale of their dimensions approaches nanometers. Materials scientists and engineers work to understand those property changes and utilize them in the processing and manufacture of materials at the nanoscale level. The field of materials science covers the discovery,characterization, properties, and use of nanoscale materials. Nanomaterials research takes a materials science-based approach to nanotechnology, influencing advances in materials metrology and synthesis which have been developed in support of microfabrication research. Materials with structure at the nanoscale level o have unique optical, electronic, or mechanical properties. Although much of nanotechnology's potential still remains un-utilized, investment in the field is booming. The U.S. government distributed more than a billion dollars to nanotechnology research in 2005 to find new developments in nanotechnology. China, Japan and the European Union have spent similar amounts. The hopes are the same on all fronts: to push oneself off a surface on a growing global market that the National Science Foundation estimates will be worth a trillion dollars. The global market for activated carbon totaled $1.9 billion, in 2013, driven primarily by Asia-Pacific and North American region for applications in water treatment and air purification.
Metallurgy and Materials Science :
Materials science plays an important role in metallurgy too. Powder metallurgy is a term covering a wide range of ways in which materials or components are made from metal powders. They can avoid, or greatly reduce, the need to use metal removal processes and can reduce the costs. Pyro metallurgy includes thermal treatment of minerals and metallurgical ores and concentrates to bring about physical and chemical transformations in the materials to enable recovery of valuable metals. A complete knowledge of metallurgy can help us to extract the metal in a more feasible way and can used to a wider range. Global Metallurgy market will develop at a modest 5.4% CAGR from 2014 to 2020. This will result in an increase in the market's valuation from US$6 bn in 2013 to US$8.7 bn by 2020. The global market for powder metallurgy parts and powder shipments was 4.3 billion pounds (valued at $20.7 billion) in 2011 and grew to nearly 4.5 billion pounds ($20.5 billion) in 2012. This market is expected to reach 5.4 billion pounds (a value of nearly $26.5 billion) by 2017.
Characterization and Testing of Materials :
Characterization, when used in materials science, refers to the broader and wider process by which a material's structure and properties are checked and measured. It is a fundamental process in the field of materials science, without which no scientific understanding of engineering materials could be as curtained. Spectroscopy refers to the measurement of radiation intensity as a function of wavelength. Microscopy is the technical field of using microscopes to view objects that cannot be seen with the naked eye. Characterization and testing of material is very important before the usage of materials. Proper testing of material can make the material more flexible and durable. Research indicates the global material testing equipment market generated revenues of $510.8 million in 2011, growing at a marginal rate of 3.1% over the previous year. The market is dominated by the 'big three' Tier 1 competitors, namely MTS Systems Corporation, Instron Corporation, and Zwick/Roell, while other participants have performed better regionally, such as Tinus Olsen in North America and Shimadzu Corporation in Asia Pacific.
Micro and macro materials characterization
Computational models and experiments
Microscopic and Spectroscopic techniques
Advances in characterization techniques
Mechanics of materials
Experimental and measurement tests
Materials science has a wider range of applications which includes ceramics, composites and polymer materials. Bonding in ceramics and glasses uses both covalent and ionic-covalent types with SiO2 as a basic building block. Ceramics are as soft as clay or as hard as stone and concrete. Usually, they are crystalline in form. Most glasses contain a metal oxide fused with silica. Applications range from structural elements such as steel-reinforced concrete, to the gorilla glass. Polymers are also an important part of materials science. Polymers are the raw materials which are used to make what we commonly call plastics. Specialty plastics are materials with distinctive characteristics, such as ultra-high strength, electrical conductivity, electro-fluorescence, high thermal stability. Plastics are divided not on the basis of their material but on its properties and applications. The global market for carbon fiber reached $1.8 billion in 2014, and further the market is expected to grow at a five-year CAGR (2015 to 2020) of 11.4%, to reach $3.5 billion in 2020. Carbon fiber reinforced plastic market reached $17.3 billion in 2014, and further the market is expected to grow at a five-year CAGR (2015 to 2020) of 12.3%, to reach $34.2 billion in 2020.
Biomaterials from healthcare viewpoint can be defined as "materials those possess some novel properties that makes them appropriate to come in immediate association with the living tissue without eliciting any adverse immune rejection reactions. Biomaterials are in the service of mankind through ancient times but subsequent evolution has made them more versatile and has increased their usage. Biomaterials have transformed the areas like bioengineering and tissue engineering for the development of strategies to counter life threatening diseases. These concepts and technologies are being used for the treatment of different diseases like cardiac failure, fractures, deep skin injuries, etc. Research is being performed to improve the existing methods and for the innovation of new approaches. With the current progress in biomaterials we can expect a future healthcare which will be economically feasible to us. Equipment and consumables was worth US$ 47.7 billion in 2014 and is further expected to reach US$ 55.5 billion in 2020 with a CAGR (2015 to 2020) of 3%.
Advanced Materials and Devices: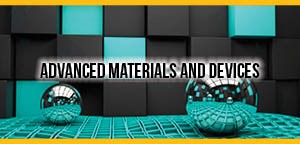 Ability of a nation to harness nature as well as its ability to cope up with the challenges posed by it is determined by its complete knowledge of materials and its ability to develop and produce them for various applications. Advanced Materials are at the heart of many technological developments that touch our lives. Electronic materials for communication and information technology, optical fibers, laser fibers sensors for intelligent environment, energy materials for renewable energy and environment, light alloys for better transportation, materials for strategic applications and more. Advance materials have a wider role to play in the upcoming future years because of its multiple uses and can be of a greater help for whole humanity. The global market for conformal coating on electronics market the market is expected to grow at a CAGR of 7% from 2015 to 2020. The global market for polyurethanes has been growing at a CAGR (2016-2021) of 6.9%, driven by various application industries, such as, automotive; bedding and furniture; building and construction; packaging; electronics and footwear.Track 8-1Optical fibers and laser technologies
Smart materials
Sensors and actuators
NEMS and MEMS
Programmable matters
Insulating materials
Multiscale and multifunctional materials
Smart grid and robots
Thermal spray
Different geophysical and social pressures are providing a shift from conventional fossil fuels to renewable and sustainable energy sources. We must create the materials that will support emergent energy technologies. Solar energy is a top priority of the department, and we are devoting extensive resources to developing photovoltaic cells that are both more efficient and less costly than current technology. We also have extensive research around next-generation battery technology. Materials performance lies at the heart of the development and optimization of green energy technologies and computational methods now plays a major role in modeling and predicting the properties of complex materials. The global market for supercapacitor is expected to grow from $1.8 billion in 2014 to $2.0 billion in 2015 at a year-on-year (YOY) growth rate of 9.2%. In addition, the market is expected to grow at a five-year CAGR (2015 to 2020) of 19.1%, to reach $4.8 billion in 2020.
Materials chemistry involves the synthesis and study of materials that have interesting and potentially useful electronic, magnetic, optical, and mechanical properties. Material chemistry is one of the most talked topics in the last few years. They are the new branch of materials science which takes advantage of new developments in chemistry. In fact, chemistry may provide a complete new board of materials for materials scientists and engineers to use. Chemistry began, and largely continues today, to be inextricably associated with preparing, processing, and utilizing materials. Much of the focus of materials chemistry in discovering and developing materials that may be exploited for desired applications. Today, many materials chemists are synthesizing functional device materials, and the discipline is often seen as directed towards producing materials with function—electrical, optical, or magnetic. Material chemistry is involved in the designing and processing of materials. Global market for catalysts is expected to reach $28.5 billion by 2020, growing at a CAGR (2015 to 2020) of over 3%. Asia-Pacific is having the largest market for catalysts accounting for more than 35% share. Major players for Catalysts are Albemarle, Arkema, BASF, Chevron, Clariant, Dupont, Zeolyst International and others.
Ceramics and Composite Materials: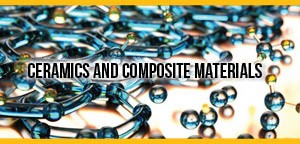 Ceramics cover a very wide range of materials from structural materials like concrete to technical ceramics like PZT – a piezoelectric. Usually they are defined as solids with a mixture of metallic or semi-metallic and non-metallic elements (often, although not always, oxygen), that are quite hard, non-conducting and corrosion-resistant. The most useful technique for finding the composition of a ceramic is energy dispersive x-ray spectroscopy (EDS). Ceramics are mostly made by powder processing techniques, for example sintering . Composites are often used in applications that require specific 'conflicting' properties such as a high strength and high toughness. The properties may be conflicting because having a high yield stress sometimes relies on trapping and tangling dislocations, but these reduce the ductility and toughness of the material. Composites often consist of a matrix and fibres or particles that affect the properties.
Thermoplastic carbonates in medical devices
Silicone elastomers in cosmetics
Polyesters in clothing and food packaging industries
Polyacrylates in paints and varnishes
Polymer quenchants for Industrial Heat treatment
Market Analysis
THEME: Experimenting materials to rewrite the history
Materials Science Conferences may be a field of technology that encompasses the spectrum of materials varieties and the way to use them in producing. Materials span the range: metals, ceramics, polymers (plastics), semiconductors, and mixtures of materials known as composites. We have a tendency to sleep in a world that's each dependent upon and restricted by materials. Everything we have a tendency to see and use is created of materials: cars, airplanes, computers, refrigerators, microwave ovens, TVs, dishes, silverware, athletic instrumentation of all sorts, and even medicine devices like replacement joints and limbs. All of those need materials specifically tailored for his or her application. Specific properties area unit needed that result from fastidiously choosing the materials and from dominant the producing processes wont to convert the essential materials into the ultimate designed product. New materials technologies developed through engineering and science can still build surprising changes in our lives within the twenty first century, and folks in Materials Science and Engineering can still be a key in these changes and advances.
These engineers agitate the science and technology of manufacturing materials that have properties and shapes appropriate for sensible use. Activities of those engineers vary from primary materials production, as well as use, through the planning and development of recent materials to the reliable and economical producing for the ultimate product. Such activities area unit found usually in industries like part, transportation, natural philosophy, energy conversion, and medical specialty systems. The long run can bring ever-increasing challenges and opportunities for brand spanking new materials and higher process. Materials area unit evolving quicker these days than at any time in history. New associate degree improved materials area unit an "underpinning technology" - one which might stimulate innovation and merchandise improvement. prime quality product result from improved process and a lot of stress are going to be placed on reclaiming and use. For these several reasons, most surveys name the materials field collectively of the careers with wonderful future opportunities.

Summary:
Materials Technology is a field of technology that encompasses the spectrum of materials types and how to use them in manufacturing. Materials span the range: metals, ceramics, polymers (plastics), semiconductors, and combinations of materials called composites. We live in a world that is both dependent upon and limited by materials. Everything we see and use is made of materials: cars, airplanes, computers, refrigerators, microwave ovens, TVs, dishes, silverware, athletic equipment of all types, and even biomedical devices such as replacement joints and limbs. All of these require materials specifically tailored for their application. Specific properties are required that result from carefully selecting the materials and from controlling the manufacturing processes used to convert the basic materials into the final engineered product.
Materials science has always been with us from the ancient times and has always been the backbone of human's evolution and development. Materials scientists lay stress on understanding how the history of a material influences its structure, and thus its properties and performance. All this factors have paved way for the improvement of the quality of human life to a great extent. Materials Technology 2020 gives you the in-depth analysis of materials research and new definition to your imaginations. Materials Technology 2019 gives you the base to build your own castle of knowledge and makes you completely ready and prepares you for the challenges in material science Industry.
Why to Attend?
With members from around the world focused on learning about the Materials Technology, Manufacturing Innovations, and Metallurgical Engineering this is your single best opportunity to reach the largest assemblage of participants from all over the globe. Conduct demonstrations, distribute information, meet with the current and potential customers, make a splash with a new product line, and receive name recognition at this prestigious event.
Target Audience:
Materials and Manufacturing Technology Students, Scientists
Materials and Manufacturing Technology Researchers
Materials and Manufacturing Technology Faculty
Materials and Manufacturing Technology Colleges
Materials and Manufacturing Technology Associations and Societies
Business Entrepreneurs
Training Institutes
Manufacturing Medical Devices Companies
World-renowned speakers, the recent techniques and the latest updates along with the advances in the fields of Materials Technology and Manufacturing Innovations.
Come be Part of it...!
Major Materials Science Engineering Associations around the Globe:
American Chemical Society (ACS)
American Physical Society (APS)
The Materials Information Society (ASM International)
The Materials Research Society (MRS)
Microscopy Society of America (MSA)
The Minerals, Metals & Materials Society (TMS)
Sigma Xi: The Scientific Research Society
International Society for Optical Engineering (SPIE)
The American Ceramic Society (ACerS)
American Chemical Society (Division of Polymer Chemistry)
American Physical Society Division of Polymer Physics (APS DPOLY)
Telford Polymer Association
Polymer Coatings and Surfacing Institute
Federation of Societies for Coatings Technology
National Paint & Coatings Association
Polymer Division of the Royal Australian Chemical Institute (RACI Polymer Division)
The Polymer Society, UK
American Plastics Council
Association of Plastics Manufacturers in Europe
European Committee of Machinery Manufacturers for the Plastics and Rubber Industries
European Council for Plasticisers & Intermediates
Indian Rubber Manufacturers Research Association
Institute of Materials, Minerals and Mining
Malaysian Plastics Manufacturers Association
Performance Textiles Association
The Polymer Society of Korea
Polymer Machinery Manufacturers & Distributors Association (UK)
Plastindustrieforbundet (Norway)
Society of Plastics Engineers (USA)
Society of the Plastics Industry (USA)
European Polymer Dispersion and Latex Association
British Plastics Federation
International Association of Nanotechnology
Royal Society of Chemistry
International Cast Polymer Alliance
Polish Chemical Society
Danish Chemical Society
Society of Chemical Industry
American Coatings Association
Association of Greek Chemists
Italian Chemical Society
Belgian Polymer Group (BPG)
Brazilian Polymer Association
European Council for Plasticizers and Intermediates
European Polymer Federation
Polymer Machinery Manufacturers and Distributors Association, UK
Faraday Society
The society for Polymer Science, India
The society for Polymer Science, Japan
Swedish Chemical Society
Norwegian Chemical Society
Royal Netherlands Chemical Society
Hungarian Chemical Society
Major Materials Science Associations in Russia
Materials Research Society of Russia (MRS-R)
ISMAN Russian Academy of Sciences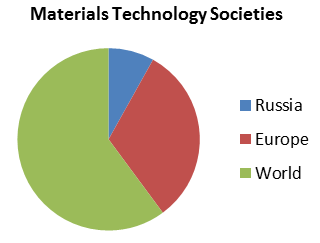 Top Universities in Russia
St. Petersburg State University
ITMO University
Tomsk State University
Novosibirsk State University
Kazan Federal University
Peter the Great St. Petersburg Polytechnic University
Ural Federal University National University of Science and Technology (MISIS)• Sigma Xi: The Scientific Research Society
International Society for Optical Engineering (SPIE)
The American Ceramic Society (ACerS)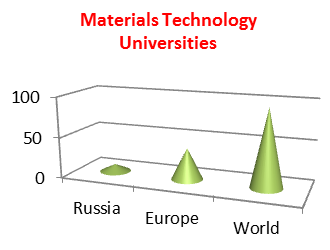 Geometric Analysis of Universities

We welcome you all to the International Conference on Materials Technology and Manufacturing Innovations. Materials and Manufacturing 2019 provides you the life-time chance to explore and enrich your information in materials science and technology. This material technology congress provides you the chance to act with eminent and notable academicians, scientists, industrialists and young students connected to the sphere of materials science and engineering below one roof in one podium to find out, share and prosper your information in one in all the foremost numerous and undiscovered topics.
Learn More
Materials Technology and Manufacturing Innovations Companies in Europe:
Rusal | Tenaris |Mechel |Carlsberg Group | Norsk Hydro | Lanxess | DSM|Covidien | Novolipetsk Steel | Nornickel | Kering| Materials Science Conferences |SCA | Cr.E.S.T. - Crisel Elettrooptical Systems Technology | Digital Surf | Marion Technologies |Russian Corporation of Nanotechnology (RCNT) | Ad-particles | Quick step Technologies | Deerac Fluidics | CS Instruments | Cordouan Technologies | Biokowski psb Industries |Emerging Materials Science Conferences | Fluigent Smart Microfludics | Auto Car Brands | Leblog auto | International Conferences on Materials Science | WTS Global | BR Automation| Euroscicon | AGM Automation System Inc |AGI|Automation Components |Aveni Collaborative Centre for Applied Nanotechnology|Xenia Materials |Silicon Biosystems | Materials Science 2019|SCRIBA Nanotechnologies| Plasma Diagnostics and Technologies| Materials Science 2019 |Organic Spintronics | Euroscicon Conferences | Mindseeds Laboratories|Emerging Materials Science Conferences | MBN Nanomaterialia S.p.A | Linari Biomedical| Materials Science Conferences |HiQ-Nano | Directa Plus | Digisens 3D Tomography Software Solutions | A.P.E. Research |Sandvik | Delphi Automotive | Reckitt BenckiserVoestalpine | Seagate Technology | Prysmian Group | Pernod Ricard | Euroscicon | Tyco International | GKN ABCR supplies Lmtd | AIXTRON | Buhler | BASF | Bio Gate | BIONI | BYK Additives & Instruments | CCM | Arnold | Bartels| VSPC co. LTD | Materials Science Conferences |Warsash scientific | Euroscicon Conferences| AQUANOVA AG | nDure Technologies | Dolomite | Ellit Scientific solution science for research and industry | Edinburgh | Euroscicon Conferences | International Conferences on Materials Science | Instruments| Durham Magneto optics Ltd | Eurochem specialist chemicals | Biolin Scientific | Fischer Instrumentation | Addlink software scientific | Izasa scientific | Nadetech Innovations | AD-particles | Graphene Tech | NanoDiamond Products | Materials Science 2019 |Particular Sciences | Sampas Nanotechnology | Buhler Group | Kiss Soft | Greater Zuricharea | NanoSurf | NBM | Optical Additives | PSI | Waters Smart Innovations | Tec Concept | International Conferences on Materials Science | Silexmicro Systems | PFSW |Nano Film | Gyros | Solectron | Agfa | CMI Group | Euroscicon | Materials Science Conferences | Ceramisphere Ltd| DYESOL |Emerging Materials Science Conferences | Living Cell Technologies| Micro-Bio-Nano Company | Renishaw apply innovation | Advanced Magnetic Technologies & Consulting Group (AMT&C) | Concern Nanoindustry | Interface Ltd | NT-MDT | Euroscicon Conferences | 2DTECH | 3M ESPE | AHS | agar scientific | Applied graphene materials | Aquila instruments | Chained Labs | BBI solutions | Antaria Limited |International Conferences on Materials Science| AVT Services Pty Ltd | Nano Lane | Bio Nano consulting | Gemini Israel Ventures | Cambridge Display Technology| Aquamarijn micro filtration | Materials Science 2019 | ASM International| DSM somos | HQ grapheme |Materials Science Conferences |IME Technologies | KRIYA Materials | CPS Instruments | BASF | Zeiss | Advanced Technologies Center ATC
Materials Technology and Manufacturing Innovations Companies in USA:
D-Wave Systems ADVANO | Advenira solutions| Delong America group Inc. | Electronics.ca Publications | Epoc Blood Analyst System | Innovative Bioceremix,Inc |Materials Science Conferences | 3D systems | 4WAVE | A&A coatings | A Beam Technologies| Accelrys (BIOVIA) | ACS | Euroscicon Conferences| Materials | Aculon Performance and solutions | ADA technologies,Inc | Ade 10 Angstroms | Advance TEC | Aegis Techologies |International Conferences on Materials Science| Angstrom Engineering | Materials Science Conferences | American Dye Source, Inc Materials Science 2019 | Applied Nanotools Inc. | Advance Reproductions | Indigo Instruments | Euroscicon | Klean Carbon | MCH nano soloutions | MFS Technologies Ltd |Materials Science Conferences | IMEMS | Advanced Diamond Solutions | AEB | Advanced Energy | Advanced optical technologies | Clemex Technologies Inc.| Cytodiagnostics Inc.|
Materials Technology and Manufacturing Innovations Companies in Asia and Middle East:
NOF CORPORATION | Showa Denko | Osaka | Taisei Kogyo | Digit Link | Gobiz Korea | BMVIT| AIT | Nanotech Enterprice | SSV | KSU | Euroscicon Conferences | Nano yo | Curiox Accelerating life Sciences | Liwei Nano | Micron | ATIP | F- Carbon | Fuji Xerox | Marubeni| Comtech Advanced |Materials Science Conferences | Amphenol | Alpha Casting |HSRE Work | ICAM |Precision Type | Bugatti |Aixam | SBEC | ATKINS Group | PACIFIC COAST | FM Global |Emerging Materials Science Conferences ISAT | Euroscicon| Candc Infrastructure | Materials Science Conferences | Proteck Coating | TE Connectivity | Salzgitter AG |Atlas Copco |UPM | Novo Nordisk Merck Group | Vedanta Resources | Ingersoll Rand | Stora Enso|Syngenta | Nanomaterials technology Interation Point |International Conferences on Materials Science| Green Prophet | Proactive Investors | Innovation Kaust |Molecular Raber Design | Society of Petroleum Engineers | Knights Security | Nanotech | United Plastic Curtiss-Wright | Lake Central | Huper optic |Euroscicon Conferences| Helios Applied Systems | Quantum | Egypt Nanotech center | Alien vault| Abacus next | Digital Guadian | Image Sourceinc | V-kool | Materials Science 2019| Incubation Alliance | Itochu Systech | Shida Rubber | CNC Machinings |Emerging Materials Science Conferences| Tiny Machining | MR Sourcing
Materials Technology and Manufacturing Innovations Journals:
Materials Science and Engineering: A | Materials & Design Journal of Mechanical Working Technology | Euroscicon| Computational Materials Science |Emerging Materials Science Conferences | Bioprinting | Applied Superconductivity | Advanced Powder Technology | Additive Manufacturing | 3D-Printed Materials and Systems | Applied Adhesion Science |Materials Science Conferences| Euroscicon Conferences |International Conferences on Materials Science | Materials for Renewable and Sustainable Energy | Materials Theory | Journal of Advanced Ceramics | IEEE Transactions on Nanobioscience | Materials Science 2019| Journal of Laser Micro Nanoengineering | Journal of Nanophotonics | Reviews on Advanced Materials Science | ACS Applied Materials & Interfaces Nanotechnology | Nano medicine and nano biotechnology | Precision Engineering| Advanced Functional Materials
Materials Technology and Manufacturing Innovations Jobs in Europe:
Production Manager jobs | Quality Control Inspector jobs| Aircraft Mechanical Engineer jobs| CNC Machinist jobs | Design Engineer jobs | Professor of materials science jobs | Professor of Mechanical Engineering jobs | Dean of Materials science jobs | Head of Mechanical Engineering jobs | Materials Science 2019 | Industrial Engineer jobs | Euroscicon | Manufacturing Process Engineer| jobs Manufacturing Production Manager jobs | Emerging Materials Science Conferences | Mechanical Designer jobs | Mechanical Engineer jobs | Operations Manager jobs | Quality Manager jobs | Materials Management jobs | Lecturer or Senior Lecturer in Materials Engineering Jobs | Product Development Scientist Jobs | Associate Principal Design Engineer Jobs| Euroscicon Conferences| Materials Science Conferences | Manufacturing Researcher Jobs| Materials Science 2019 |Research Assistant in Materials science jobs| Senior - Lead Electronics Engineers - MEMS Operations Director Jobs Senior Memory Architect Jobs | Nanoparticle characterization in complex media (Leipzig, Germany) Career | Summer Jobs at the Department of Electronics and Nano engineering - Aalto University, Finland | Process Engineer (OMJ/MC) Jobs | Euroscicon Conferences |Emerging Materials Science Conferences | Senior Scientist - Dynamic Materials Response Jobs | Nanotechnology Careers | Euroscicon Conferences| Materials science scientists Jobs | International Conferences on Materials Science | Post-doctoral positions in R&D of High Field Superconducting Magnets for Future Particle Accelerators Careers | Post-doctoral positions in Statistical Learning Jobs | Lecturer in Mechanical Engineering Jobs | Postdoctoral Research Fellow - Investigation of Transition Metal Oxide Super lattices by Neutron Scattering and Light Scattering Techniques Careers | Physical Scientist – Materials Science| Senior Photonic Researcher Jobs |International Conferences on Materials Science
| PhD studentship Jobs | Project Leader Jobs | Senior Researcher Optical Elements for Augmented and Mixed Reality Jobs | Director of Materials Core Technology Jobs | R&D Materials & Nanotechnology Jobs | Professor or Assistant Professor Positions in areas of Mechanical Manufacturing Materials jobs | Materials Science Conferences| Postdoc of Materials Science Jobs | Euroscicon Conferences| Emerging Materials Science Conferences | Team Leader Physical Design, Design Automation and Mask Data Preparation Careers | Manufacturing / Assembly Technician Careers
Materials Technology and Manufacturing Innovations Jobs in USA:
Post-Doctoral Research Fellow Jobs | Cancers in Materials Science and Engineering | Euroscicon Conferences | Assistant/Associate Materials Science Professor Jobs | Manufacturing and Characterization Fellowship Jobs – CDER|Postdoctoral Research Staff Member – Mechanical Engineering Jobs |Emerging Materials Science Conferences | Research Specialist Jobs | Euroscicon | Associate/Full Research Professor of Materials Research Associate Jobs | Principal Scientist, Metamaterials/Metasurfaces Postdoc Jobs | Assistant/Associate Professor of Mechanical research Jobs | Euroscicon| Research Scientist/Engineer Jobs | Assistant Professor – Nanotechnology Jobs |Emerging Materials Science Conferences | Research Associate | PostdoctoralScientist Jobs Professor of Nanoengineering Jobs | Professor of Biomaterials Jobs | Euroscicon Conferences | Interdisciplinary Post-Doctoral Jobs |Materials Science Conferences| Research Facility Manager Jobs | Polymeric Nanoparticle Formulation Careers| Materials Science 2019| Audio Laboratory Assistant Careers | Assistant Professor/Associate Professor, Computational Fluid Dynamics Careers | POSTDOCTORAL Research Associate Jobs | International Conferences on Materials Science|Materials Scientist - Nanoscience Jobs | Euroscicon Conferences | Senior Associate, Data Scientist – Optimization Jobs | Staff Scientist - Assay Development Careers | Assistant Professor in Mechanics and Design Jobs | NCTR-ORA Nanotechnology Core Facility Fellowship – FDA Careers | Faculty Position- Emerging Technology Jobs | Nanomaterial Research Assistant at EPA Jobs | Assistant/Associate Professor (tenure track) Revised Jobs |International Conferences on Materials Science| Staff Scientist Jobs| Materials Science 2019| Euroscicon Conferences |Materials Science 2019 | Associate Scientist Jobs | Materials Science Conferences | Assistant Professor Jobs | EUV Simulations Engineer - TD Research Careers | Tenure-Track Faculty Position, Inorganic/Materials Chemistry Jobs | Photonics System Integration Engineer Jobs |Emerging Materials Science Conferences | Director, Center for High Technology Materials Jobs | Euroscicon | Instructor, Mechanical Engineering Jobs| Subject Matter Expert Scientist –Materials research Jobs | Research Scientist Jobs | Scientist / Research & Development Careers | Research Associate-Fixed Term Careers |Emerging Materials Science Conferences | Postdoctoral Scholar – Materials and Manufacturing Jobs | Materials Scientist/Engineer Jobs
Materials Technology and Manufacturing Innovations Jobs in Asia and Middle East:
Senior Firmware Engineer Jobs | Senior PCB Engineer Jobs| Motors Test and Validation Engineer Jobs | Senior Power Electronics Engineer Jobs | Postdoctoral Research Fellow Jobs | Field Support / Application Engineer Jobs | Motor Drives Engineer Careers |Emerging Materials Science Conferences |Production Manager Jobs | Materials scientist Jobs |Euroscicon Conferences| Research Fellow Jobs | Research Fellow in Prof Jens Martin research group Careers | Senior Technology Manager Jobs | Graduate Software Engineer – Motors Jobs | International Conferences on Materials Science | Senior / Principal Test Validation Engineer Jobs | Materials Science Conferences| Laboratory Executive Jobs | Research Fellow (Biochemistry) Jobs | Assistant Chemist Jobs | Euroscicon Conferences | Laboratory Director Jobs |Emerging Materials Science Conferences | Assistant Professor in Structural and Building Systems Careers | Engineering Project Handler Jobs | Scientist/Engineer, Director - Department of Chemistry Careers | Materials science Fellowship Jobs | Product Manager Mechanical Engineer Product Lifecycle Careers |Materials Science Conferences | Project Manager – Electronics Careers | Research Assistant Statistical Modeling for Nanoscience Jobs | Senior Manager Jobs | Euroscicon Conferences | International Conferences on Materials Science | Oil & Gas - Engineering Leader Jobs |Post-Doctoral Associate Jobs | Senior Motors Test and Validation Engineer Jobs | Sr. Engineer, Optics Researcher Jobs| Research Scientist – Materials
Materials Technology and Manufacturing Innovations Products:
Precious metals | Advanced Materials| Biomaterials|Materials Science 2019| Ceramics | Composites | Magnetic Materials | Nanomaterial's | Polymers |Materials Science Conferences| Euroscicon|Magnetic semiconductor nanowires | International Conferences on Materials Science | Euroscicon Conferences | Multiferroic oxides for multifunctional device | Magnetic semiconductors |Emerging Materials Science Conferences | Intermetallic alloys for hydrogen storage